LENA'S HOUSE

" Mykonos is a white idea on square....."
K. Chrysanthis


Gifted by G. and M.Drakopoulos on 1970, "Lena's House"( a branch of the Mykonos Folklore Museum) is situated at Tria Pigadia in the town of Mykonos. It is an authentical middle-class Mykonian residence of the 19th century and represents a typical internal arrangement of space. It contains a spacious drawing room, two bedrooms and two courtyards and a dovecote. Of particular interest are the rich antique furnishings, such as large frames containing splendid prints, the tapestries, the wood carvings, old mirrors, painted plates, etc. It was named "Lena's House" after it's last owner Lena Skrivanou.


"Lena's House" is open daily from 1st April till 30th October, between 19:00-21:00

Telephone: (2289) 22591, 22748. No admission charge.



Hydra Island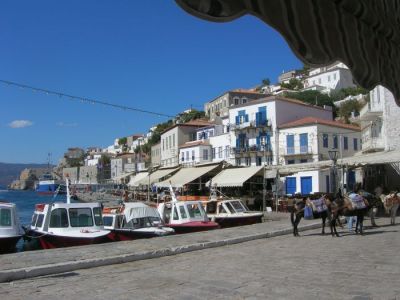 Welcome to Hellas (Greece) and welcome to Hydra! it's probably impossible to fit all of Hydra's fascinating beauty in this small pamphlet. We have attempted, however, to give a short description of the island that has enough to offer the visitor and guarantees a memorable vacation.
The healthy dry climate, the friendly people, the sparkling warm waters and the picturesque harbor that at sundown transforms into a cosmopolitan city full of sports, scuba diving, trips to the islander historical monasteries, donkey rides in town, shopping In the stores along the harbor, good food in the taverner and restaurants, and all night partying at the bars and music clubs around town.
The high quality and exquisite service characteristic of the hotels and other shops and restaurants fit perfectly the strict standards of the highest class visitors and the jet set from all over the world that come to Hydra every year.

Sponsored by Mistral Hotel
Have a wonderful time...