Lipsi Island

Area: 16 sq. km
Population: 600

Situated in the Dodecanese only 55 minutes by ferry from Patmos, Lipsi, or Lipsos as it is sometimes known, is the largest of the minor islands to the north and east of Patmos.

Most of the inhabitants live around the pretty little harbour. It is here that you will find what few facilities exist on the island including a handful of tavernas, mini-market, post office and a couple of cafes.

Beaches are generally not crowded and sandy. The nearest, Lendou, is only a few minutes' walk from the harbour whilst Plati Gialos, Monodendri and Katsadia lie further a field and involve some footwork. Boat trips to neighbouring Marathi, Patmos and Leros are all possibilities but in the main this is very much a relaxing, doing little, unwinding holiday on what remains an unspoilt Greek Island.

>> Dodecanese Islands : Astypalea, Halki, Kalymnos, Karpathos, Kassos,
Kastelorizo, Kos, Leros, Lipsi, Nisyros, Patmos, Rhodes, Symi, Tilos.
Hydra Island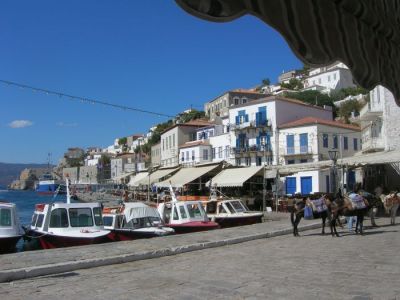 Welcome to Hellas (Greece) and welcome to Hydra! it's probably impossible to fit all of Hydra's fascinating beauty in this small pamphlet. We have attempted, however, to give a short description of the island that has enough to offer the visitor and guarantees a memorable vacation.
The healthy dry climate, the friendly people, the sparkling warm waters and the picturesque harbor that at sundown transforms into a cosmopolitan city full of sports, scuba diving, trips to the islander historical monasteries, donkey rides in town, shopping In the stores along the harbor, good food in the taverner and restaurants, and all night partying at the bars and music clubs around town.
The high quality and exquisite service characteristic of the hotels and other shops and restaurants fit perfectly the strict standards of the highest class visitors and the jet set from all over the world that come to Hydra every year.

Sponsored by Mistral Hotel
Have a wonderful time...