Tilos Island

Area: 63 sq. km
Population: 300

Tilos is a small and very pleasant island between Nissiros and Symi. It is a blissful tranquil heaven inhabited by very friendly people. The food is excellent and cheap. The taverna Blue Sky served probably the best Stifado I have ever tasted, among other delicious treats.

Tilos even has it's small share of sightseeing. Most notably the hillside villages of Mikro Horio (deserted and in ruins) and Megalo Horio (the "capital" of the island), and some castles.

Tilos has some very nice paths left that will keep you busy for a few days, at least. Most of the paths are rather short and pretty undemanding, making this island a very relaxed experience.

Many decent beaches can be found on the way, where you can enjoy a nice swim in more or less complete solitude. The charming little port of Telos, at Livadia bay, can serve as a convenient base for your walks.

>> Dodecanese Islands : Astypalea, Halki, Kalymnos, Karpathos, Kassos,
Kastelorizo, Kos, Leros, Lipsi, Nisyros, Patmos, Rhodes, Symi, Tilos.
Hydra Island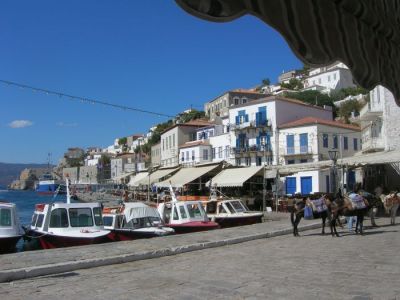 Welcome to Hellas (Greece) and welcome to Hydra! it's probably impossible to fit all of Hydra's fascinating beauty in this small pamphlet. We have attempted, however, to give a short description of the island that has enough to offer the visitor and guarantees a memorable vacation.
The healthy dry climate, the friendly people, the sparkling warm waters and the picturesque harbor that at sundown transforms into a cosmopolitan city full of sports, scuba diving, trips to the islander historical monasteries, donkey rides in town, shopping In the stores along the harbor, good food in the taverner and restaurants, and all night partying at the bars and music clubs around town.
The high quality and exquisite service characteristic of the hotels and other shops and restaurants fit perfectly the strict standards of the highest class visitors and the jet set from all over the world that come to Hydra every year.

Sponsored by Mistral Hotel
Have a wonderful time...