Ikaria Island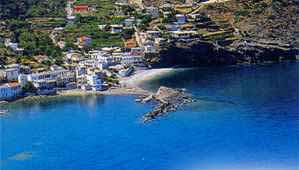 Ikaria is fast becoming one of our favourite Greek Islands. Blessed with superb beaches and breathtaking scenery, notably the pine-covered mountains and untamed ravines, it also possesses quaint, unspoilt villages and superior tourist accommodations.
Situated between Samos in the east and Paros in the west, Ikaria is a long and narrow island, 21 miles in length and between 3 & 5 miles wide. The coastline is tortuous, quite often dropping dramatically straight into the sea with most of the small villages clinging precariously to their footholds on the sheer slopes.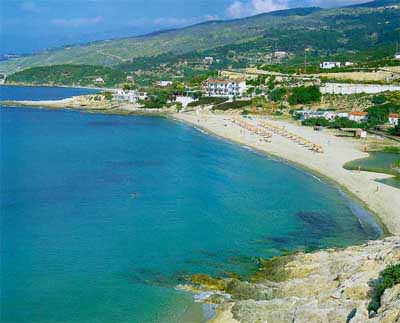 The quiet harbour town of Evdilos has character and gloriously scenery, whilst the village of Armenistis with its magnificent beaches and sleepy, relaxed atmosphere completes the duo. The island's capital, Agios Kirikos, is decorated with several old two-storey captains-houses.
The radioactive springs at Therma have been used as a spa since antiquity. At Karavostamo, on the north coast, the white washed houses peek through the vegetation reaching almost to the water's edge. The small, pretty harbour of Evdilos is next to some fine beaches with charming tavernas on them. A dense pine forest is host to several streams that flow onto a spectacular beach at Armenistis. Many villages scattered amid the verdant countryside. To the north, Fanari is of special archaeological interest in a place of great natural beauty.