Rethimno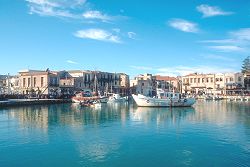 Rethimno has seen a greater influx of tourists than perhaps anywhere else on Crete, with the development of a whole series of large hotels extending almost 10 km along the beach to the east. For once, though, the middle of town has been spared, so that at its heart Rethimno remains one of the most beautiful of Crete's major cities. A wide sandy beach and palm-lined promenade border a labyrinthine tangle of Venetian and Turkish houses lining streets where many of the old men still dress proudly in high boots, baggy trousers and black headscarves.
Medieval minarets lend an exotic air to the skyline, while dominating everything from the west is the superbly preserved outline of the fortress built by the Venetians after a series of pirate raids had devastated the town. Rethymnon combines the gentle scenery of the northern and southern coastlines with the precipitous gorges of the Idi and White Mountains. The main town, Rethymnon, on the northern coast, is an hour and a half's bus ride west from the airport. There is a well-preserved Venetian fort behind the harbor and, like the other large towns on the north coast, Venetian influence is apparent in the architecture.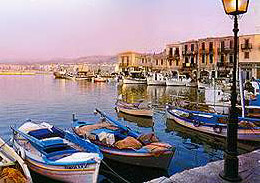 The rich mountainous countryside lures those who are interested in exploring on foot, whilst the historical aspect of the island entices many to visit the variety of beautiful castles, monasteries and archaeological sites, some of which are 500 years old. Most importantly, there is always the warm friendliness of the Cretan people who may well invite you to share a drink with them. Crete may become for you, as it has for so many previous visitors, a special and endearing place to be visited time and time again.