Amorgos Island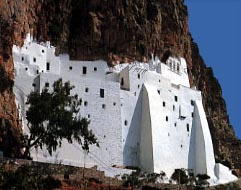 There are few, if any, islands in Greece with a more dramatic landscape than the hammer-headed shaped island of Amorgos. Located to the south east of Naxos in the southern Cyclades, most of the island's coastline is sheer, unbroken cliff, a most impressive sight as your ferry inches in to the port of Aegiali.
Aegiali has all you need for a relaxing holiday on an unspoilt Greek Island. There are good sandy beaches; and plenty of welcoming tavernas and cafes, mini-markets and small tourist shops complete the picture. Your holiday on Amorgos need not centre entirely around Aegiali. There are a number of interesting trips, which will enable you to explore this fascinating yet little-known island. The possibility of boat trips around the island, essential to appreciate the tortured coastline, and a hop over to the neighbouring islet of Nikouria, where snorkeling and fishing are the recommended activities.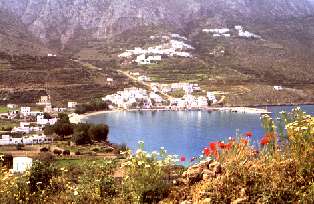 History: It is the easternmost island of the Cyclades The island has two ports. Aigiali, at the northern part and Katapola to the south of the island, from which there is a road that leads to Chora. According to archaeological it seems that the island has been inhabited since the prehistoric days and that it had been one of the most important centers of Cycladic Civilization.
Amorgos has had many conquerors. lt has been successively taken by the Athenians, the Ptolemies, the Romans, the Francs, who seized the island in 1207, the Count of Astypalea, Couirinis in 1446, the Russians in 1770 and finally the Turks in 1774. The island was freed from the Turkish domination in 1832.
Sightseeing's: At Chora the Castle dominates the island at top its highest part. Other sightseeing's are the wall with the Loopholes, and the Tower of Gavras. At the eastern part of the island, the Byzantine monastery of Panagia the Hozoviotissa built inside the cliff (watch the way you're dressed in order to be allowed to enter the Monastery). At Aigiali visit the ruins of ancient Arcesine. In Katapola the church of Panagia Katapoliani (Virgin Mary of Katapola) and the ruins of ancient Minoa are two more remarkable sightseeing's.
>> Cyclades Islands : Amorgos, Anafi, Andros, Antiparos, Delos, Folegandros, Ios, Kea, Kimolos, Kithnos, Koufonisia, Milos, Mykonos, Naxos, Paros, Santorini, Serifos, Sifnos, Sikinos, Syros, Tinos.