Andros Island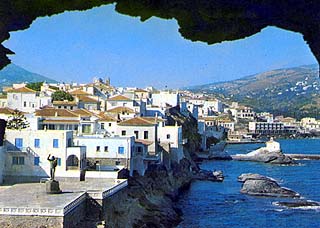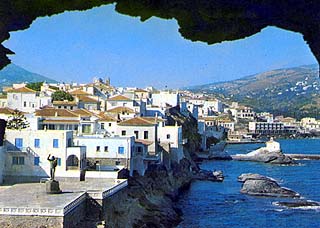 Andros is a 2.30 hour ferry journey from the harbor of Rafina, it has excellent beaches, an abundance of natural beauty and, although popular in the peak season with Athenians, limited tourism to date.
This is the northernmost and second largest of the Cyclades. Due to the many underground springs, much of the island stays green and fresh through the summer. There are mountains, valleys, monasteries and some 70 villages to explore. Beaches are generally superb.
They range from long sandy crescents, such as that at Batsi, to secluded coves, some accessible only by boat. Everywhere the sea is turquoise clear, the swimming lovely. The small resort of Batsi is where most people stay. The village has a relaxed Greek air, fine beaches to either side, a reasonable choice of restaurants and cafés, and a handful of small bars. Mountain bikes and cars can be hired. From Andros it is also easy to visit the nearby islands of Tinos and Mykonos.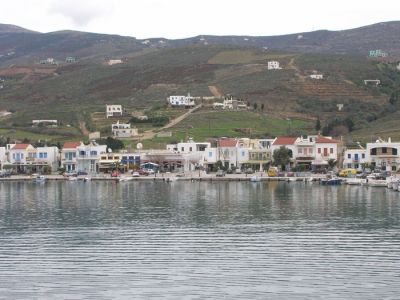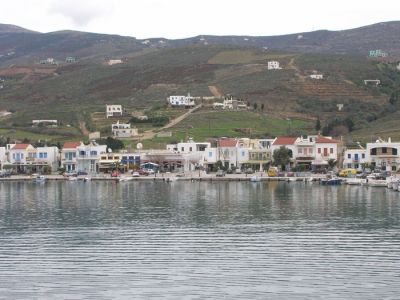 History: It is the northernmost is land of the Cyclades. Tothe southeast lies Tinos and to the west's-southeast lies >Gyaros and 26 miles to the west is Kea (Tzia). Androsis the homeland of old and young shipmasters. The mountainous ground of the island is covered by hills and high mountains A fertile green island with water. Many bruit-bearings trees and olive oils. Therma l springs. From Andros comes the excellent quality water from the SARIZA spring.
Archaeological finds date back to the Mycenaean age. According to Mythology the island was named after Andros who has a divine origin. It was also known as Hydrousa because of the many currents. In Andros in 1000 BC, Ion emigrants arrived. In the 7th century BC Andros made colonies in Macedonia and Thrace Stagera, one of the colonies of Andros, was the home of Aristotle. The Venetians conquer the island in 1204. In 1566 it is conquered by the Turks. In 1770-1774, the Russian occupation. On the 10th of May 182 1 the clergyman, philosopher and fighter Theophilos Cains declares the revolution against the Turks.
Sightseeing's: An Archaeological and Maritime Museum, Bookcase and a museum of modern art in Chora. Also, there is a cultural collection and enough interesting public and private buildings.
>> Cyclades Islands : Amorgos, Anafi, Andros, Antiparos, Delos, Folegandros, Ios, Kea, Kimolos, Kithnos, Koufonisia, Milos, Mykonos, Naxos, Paros, Santorini, Serifos, Sifnos, Sikinos, Syros, Tinos.