Kithnos Island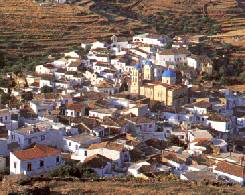 History: Kithnos is the second island from the north of the west Cyclades, between Kea and Seriphos.
One of the initially inhabited islands of the Cyclades, in the Mesolithic years 7500-6500 BC. At first it was named Draopis from the name of its first inhabitants, the Dryopes, an ancient prehellenic people. Later it was named Kithnos from the name of the island's king Kithnos.
It has been also reported as Thermia because of the numerous thermal springs that run through the island. It flourished to a great degree, during the antiquity. It offered two ships by fighting with the Athenian alliance against the Persians and the name of the Kithnians was written onic the tripod of Delphi. It was successively colonized by the Macedonians, the Ptolemies and the Romans. It also belonged to the Duchy of Naxos when it was conquered by the Francs.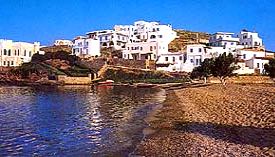 It was one of the first islands to revolt and join Greece in 1832. During the ruler ship of Othon it was used as a place of exile for the leaders of the revolutionary movement of Nauplio. Chora or Messaria is built in the interior part of the island, and is 8 km away from the port of Mericha. To the southeast of the island there is the village and the homonymous church of Panagia tis Kenalas (Virgin Mary of Canala), protector of the island, the pictures of whom are the fine artwork of the famous renowned Cretan painter Antonis Scordilis.
Beaches for swimming: Loutra, Schinari, Sarantou, Kavourokeri, Potamia, Agios Sostis, Maroula, Mamakou.
>> Cyclades Islands : Amorgos, Anafi, Andros, Antiparos, Delos, Folegandros, Ios, Kea, Kimolos, Kithnos, Koufonisia, Milos, Mykonos, Naxos, Paros, Santorini, Serifos, Sifnos, Sikinos, Syros, Tinos.