Mykonos Island

Area: 87 (KM2), Population: 6.600, Capital: Chora, Number of subarban call: 22890, P.Q.: 84 600, Distance from Piraeus: 94 n.m, Distance from Rafina: 71 n.m, Duration of travel: 5-6 hours, by air 35 min,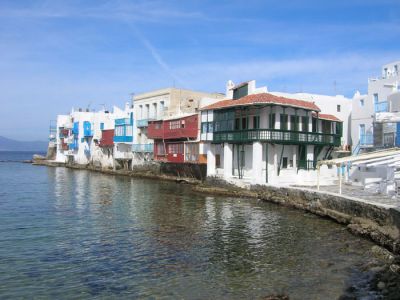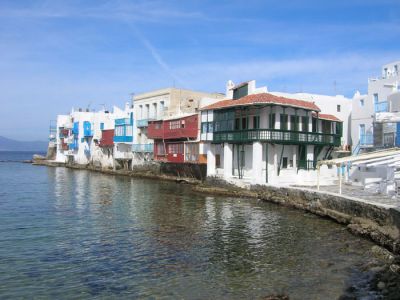 History: Mykonos is one of the most cosmopolitan islands of the Cyclades. It lies near Tinos, Syros, Paros and Naxos. Its name derives from the name of the hero Myconos who was descended from Apollo. According to the ancient Greek Mythology, Hercules killed the last giant by throwing the island on top of him. Ion emigrants settled in the island. In the 19th century it became the central hide out for pirates. In 1813 Myconos had developed its naval capacity to an incredible, for that time size. being able to maintain 22 ships with 500 men as crew and 140 cannons. This fleet was united with the rest of the Greek fleet under the command of Tompazis adding heroic pages to the revolution of 1821. A great personality of Myconos, was the heroin of the Revolution, Manto Mavrogenous.During the 2nd World War Myconos and its inhabitants offer valuable help in the fight against the oppressive forces.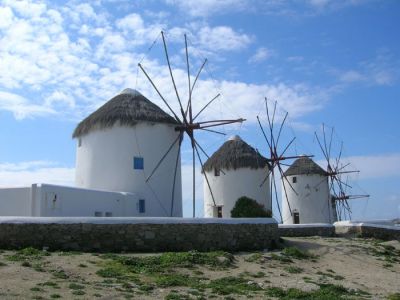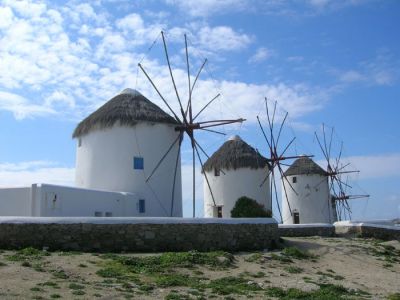 Mykonos through history & generations
Rising out of the blue-green waters of the Aegean, there is a complex of thirty nine islands, twenty four inhabited, called Cyclades. Named after the circle (cyclos-cycle) they form around sacred island of Delos, they are probably the most famous Greek islands around the world. On no other group does one get such a strong feeling of each one island being a small world, with it's own traditions, customs and uniqueness. The majority of them are rocky and arid, and share the «Cycladic» style of white cubist architecture. They are what people think when they have in mind Greece: images of white and blue. Whitewashed houses and churches surrounded by shocking blue- the sea, the sky, even doors and window frames. Visually, these islands are incomparable . The most fashionable and cosmopolitan must be Mykonos although it still has all of it's traditional values. Thinking about Mykonos, one should also think of her two neighbors Delos (little Delos) and Rhenia (Big Delos) which not only have geographical, but historical, social and administrative affinity as well. A visit to these three islands is a «must» for any individual who enjoys experiencing life to the full.
>> Cyclades Islands : Amorgos, Anafi, Andros, Antiparos, Delos, Folegandros, Ios, Kea, Kimolos, Kithnos, Koufonisia, Milos, Mykonos, Naxos, Paros, Santorini, Serifos, Sifnos, Sikinos, Syros, Tinos.