Santorini Island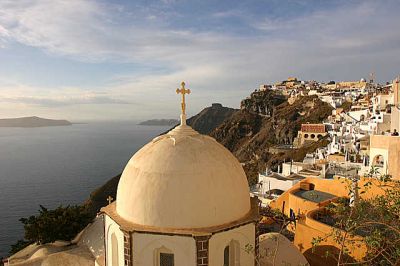 Also known as Thera, Santorini is an island of extremes. How else could you describe a place where the inhabitants have built two towns on a cliff's edge 1,000 feet above the sea, where the beaches are black and where smouldering volcanoes lie only a short boat ride away.
The main town of Thera itself is truly a wondrous place. The beauty of its location is unsurpassed in Greece. The town centre skirts the rim of the crater, which appeared after a great volcanic eruption split the island circa 1,500 BC.
Expensive tourist shops display jewellery, lace, paintings and other luxury goods. Superb restaurants, cafes and taverns are wedged between the greengrocers, chemist and beautiful cathedral. The views over the crater are one of the great sights in Greece but should you bore of this magnificent vista, there are beaches to lie on, boat trips to undertake and places of interest to visit.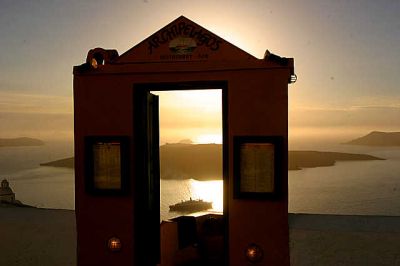 HISTORY OF THE ISLAND
One of the southernmost islands of the Cyclades. An underground volcano whose edge is in the sea surface formed Santorini.
It was named Santorini after Saint Irene (Santa Irene) the saint whose grace protects the island; while in more ancient times the island was called Kallisti and Strogili. In the ancient years after 2000 BC a very important civilization similar to the Minoan civilization that developed in Crete, flourished. The island's great prosperity was violently halted in 1500 BC after the explosion of the volcano when the central part of the island was hurried beneath the sea. The tidal waves that were formed, reached Crete destroying the coastal flourishing civilizations of the island. The continual explosions during the 2nd and 3d century BC were the cause for the creation of the small island of THERASIA and also forced the islet Palea Kammeni to emerge from the sea in 197 BC. The Rhodian's who. by that time, occupied Santorini, named the island lera (Holy] and built an altar that was dedicated to Asphalios Posidon (Neptune who grants safety). Later, in 46 BC Nea Kammeni emerged from the sea Aegean.
The Saracens raided the island constantly, it had been for a great amount of time a part of the Duchy of Naxos, Barbarossa conquered it and it suffered major destructions by the Russians during the Orlov conflict. Many support that Santorini corresponds more than anything else to the legends of the fallen continent-island of Atlantis. The excavations of the lost Minoan city by the professor Marinatos near Acrotiri bring unshakeable proofs of the existence and value of the civilization of Santorini.
>> Cyclades Islands : Amorgos, Anafi, Andros, Antiparos, Delos, Folegandros, Ios, Kea, Kimolos, Kithnos, Koufonisia, Milos, Mykonos, Naxos, Paros, Santorini, Serifos, Sifnos, Sikinos, Syros, Tinos.