Astypalea Island

Area: 97 sq.km
Population: 1.238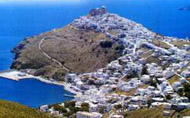 Butterfly-shaped Astypalea can be excused its identity crisis. Officially belonging to the Dodecanese, this most westerly island of the archipelago would feel more at home geographically in the Cyclades. The main port area of Skala certainly has a Cycladic feel, with typical whitewashed, cubic houses clinging to the hillside below the Venetian castle, which dominates the skyline of hilltop Chora. Skala and Chora are linked by a steep flight of steps or a less arduous meander along the narrow road. On turning the final bend into Chora, a splendid main square flanked by a line of windmills greets the eye.
Ferry connections to Astypalea are poor and the journey lengthy so the island has not fallen prey to any dramatic tourist development. The simple pleasures of tavernas and cafes are the limit to evening entertainment, preceded by the ever popular "volta" when the locals have their pre-dinner stroll along attractive harbour front.
Daytime activity is limited to say the least. A 20 minute walk from Skala and the shingle beach of Livadia, one of the best on the island complete with tavernas and shaded by tamarisk trees, beckons. A number of other beaches both to the south and north are accessible by boat.
>> Dodecanese Islands : Astypalea, Halki, Kalymnos, Karpathos, Kassos,
Kastelorizo, Kos, Leros, Lipsi, Nisyros, Patmos, Rhodes, Symi, Tilos.