Halki Island

Area: 28 sq. km.
Population: 330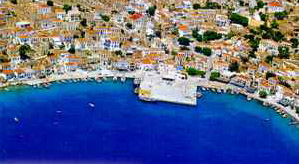 The port of Halki. The architecture of the rocky islands of the Dodecanese, Halki, Symi, Kastelorizo, is characteristic. Each island developed a fishing and merchant fleet in the 19th century, and their wealth is reflected in their houses.
Halki's town or Horio, as seen by Giuseppe Gerola, on August 2nd 1912. There were a few people still leaving there at the time. The last inhabitants left the town in 1940, to either make a new home at the port, or migrate. Having a population of 4000 souls in its heyday, today it is a haunted town, with crumbling houses and chapels. Only a few churches with fading frescoes are resisting time. The Horio was invisible from the sea in order to be protected from the pirates. The top of the hill above the Horio is crowned by the medieval castle which was built on the foundations of the ancient acropolis. If you don't wanna climb up here for the ruins, then do so for the view.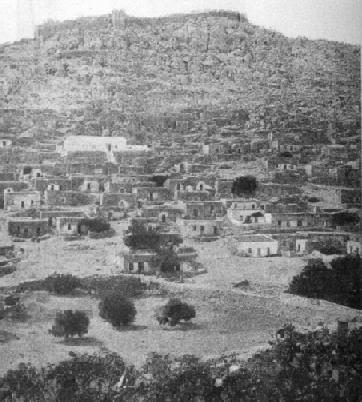 Halki is a small place. Its maximum longitude is 10km. Hikers can either walk the island's one and only paved road that connects the port to the Agios Ioannis monastery passing through the Horio, or venture off track following the paths they encounter, or climb the cliffs trailless. Don't miss visiting the Pefkias, half an hour north of the port where the sanctuary of Apolon was once standing. The valley ends in a miniscule beach. For a taste of Halki's agricultural past, visit the Koila Plateau. Traditional architecture enthusiasts will find this site very interesting, since the abandoned peasants' shelters they will see here, the "kyfes", are of very unusual construction, characteristic of the Dodecanese. This is an unusual place anyway, on this platau you will feel you have travelled back in time. To the west you will see the Agios Ioannis monastery, a cheap lodging alternative on this expensive island.
>> Dodecanese Islands : Astypalea, Halki, Kalymnos, Karpathos, Kassos,
Kastelorizo, Kos, Leros, Lipsi, Nisyros, Patmos, Rhodes, Symi, Tilos.