Kos Island

Area: 290 sq km (111 sq mi)
Population: 20.000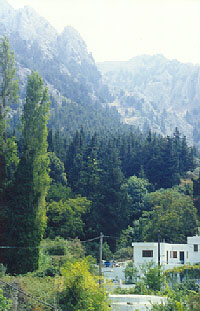 The island of Kos, is situated in the southeastern part of Greece, in the Aegean Sea, off the coast of Turkey, and is the second largest of the Dodecanese Islands. It is about 40 km (about 25 mi) long and 8 km (5 mi) wide and consists mostly of fertile and well-tilled plains and partially of hilly country. Farming and stock raising are the principal occupations of the island, and grapes, figs, olives, lettuce, tomatos, almonds, wheat, barley, and corn are the most important crops. Kos contains many important architectural remains of ancient Greek civilization. It is thought to be the birthplace of the physician Hippocrates.
The principal town and port of the island, also named Kos, was an important center for learning during the reign of the Egyptian king Ptolemy II. A 14th-century fortress erected by the Knights of Rhodes is here.
Like many of the Greek islands, Kos has survived its fair share of sieges and triumphs. Despite Persian and Spartan invasion, rule by Alexander and his successors and two devastating earthquakes, the island and its arts and sciences flourished. Kos' native sons include the painter, Apelles, the Michelangelo of his time, and Hippocrates, the father of medicine.
Kos complex past has left its mark: Minarets from Turkish mosques stand alongside grand Italian mansions and the 15th century Castle of the Knights of St. John. Today's revelers rock until the wee hours beside the medley of Greek and Roman ruins in Kos Town.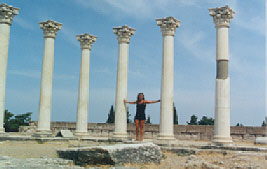 Not only does Hippocrates have a plane tree named after him (he allegedly taught his pupils and wrote books beneath its foliage), but the Archaeological Museum's star exhibit is his statue. The island's Sanctuary of Asklepeios 4 kilometers west of Kos Town was dedicated to Hippocrates and drew people in search of its healing powers from throughout the ancient world.
Today, package tourists in search of sun and sea predominate, filling the island's hotels and pensions and making Kos Town one of the most expensive places in the Dodecanese. If you prefer quietude, seek out the island's beaches and mountain villages south and west of town, or visit during the off-season.
>> Dodecanese Islands : Astypalea, Halki, Kalymnos, Karpathos, Kassos,
Kastelorizo, Kos, Leros, Lipsi, Nisyros, Patmos, Rhodes, Symi, Tilos.