Nisyros Island

Area: 41 sq. Km
Population: 1.000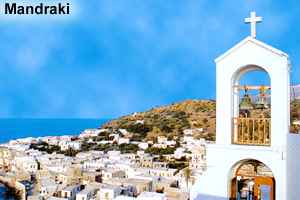 The island is almost circular. There is the caldera of an extinct volcano, which diameter is 4 km, in the interior. The vulcanic activity is only just dormant, since there are hot sulphurous springs still rising from the earth. On the hill above the village Mandraki (with about 1.000 inhabitants) is the ancient Acropolis (relatively well preserved walls) and the ruins of a castle of the Knights. Near by is the subterranean Monastery Panagia Spilani (1600) with a valuable library.
The debate still goes on between those who believe that there was an ancient greek city on Saria called Nissyros, and those who oppose it claiming there is not enough evidence supporting the existence of any ancient city during the antiquity on the island.
Traces of ancient greek habitation on the island however can still be seen at the Palatia area as well as at the area of Argos. Ancient graves have also been excavated, and the island does not seem to be an exhausted place for treasure hunting. It is a common secret that yatchts with divers come to the ilsand even during the winter, plundering land and sea, taking away the last archeological evidence that might one day lead to the unveiling of Saria's archeological secrets.
Officialy, Saria today has two inhabitants (two shepherds). Most of the land belongs to Elympites (inhabitants of the Elympos village on Karpathos). In older times they used to bring their flocks from Karpathos to Saria by swimming the narrow (100m) and not so deep strait (1,5m) bettween the two islands.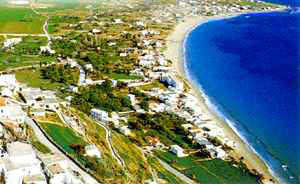 The Elympites shepherds migratory routes are today walked by hikers only. Except for the strait passage which they cross by a tourist boat, tourists come to Saria to see the Palatia (which means palaces in greek).
Palatia were built in about the 9th and 10th centuries C.E. by the pirates who raided the mediterranean. They are weird structures of an architecture unusual to the area. Similar structures are to be found in Caria in Asia Minor.
The chapel of Agia Sophia, at the anchorage near the Palatia, does not catch anyone's attention. But the Elympites have a lot of impressive descriptions and stories to tell about its glorious past they are proud of. They say in the chapel's place once stood a rich big church which had one hundred gates and one hundred bells, that were later stolen little by little by the pirates.
The lower part of this legendary old church is still to be seen today. Just to the east of the chapel, are laying three rows of the seat-steps of the church's apse, where the clergy used to be sitting in early byzantine basilicas.
>> Dodecanese Islands : Astypalea, Halki, Kalymnos, Karpathos, Kassos,
Kastelorizo, Kos, Leros, Lipsi, Nisyros, Patmos, Rhodes, Symi, Tilos.