Ithaca Island

Area: 96 sq km
Population: 4.000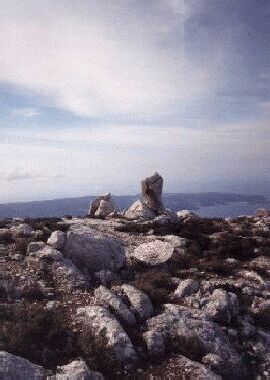 Ithaca is close to Kefalonia, and is well known for being the island home of the great Odysseus, hero of the Troian war. The small and mountainous island is renowned for its coves. The main town is Vathi, located on the island's east coast, is small, and its white houses fan out in a mounting semi-circle at one end of the bay. There are beaches at Kioni, south of Frikes, and from here there is a road going to Loizos cave, where traces of the worship of Artemis, Hera and Athena have been found.
The Island is mountainous, rising to c.2,650 ft (810 m) at Mt. Anoyi, and has little arable land. The chief products are olive oil, currants, and wine. The island is traditionally celebrated as the home of Odysseus. Cyclopean walls and remains of a Corinthian colony (c.8th cent. B.C.) have been found. In 1953, Ithaki was devastated by tidal waves.
The island is for all practical purposes divided in two, the North with Stavros and the South with Vathi. The hills of both ends are rather steep and rocky leaving only the valleys and some high plateaus with tenable land . Today more than 40 years after a devastating earthquake the infrastructure is quite modern of which a small but effective hospital is an excellent example. Ithaki divides into two halves. Mount Aetos, which joins north with south, is barely half a mile in width at its narrowest point. The highest peak on the island is Neritos at just over 800 meters.
The west coast is very rugged, with sheer mountainside rising steeply from the sea for much of its length. The east side is a little gentler, and its indented coastline provides several natural harbors, which is where Ithaca's three main coastal villages: Frikes, Kioni and Vathi. Frikes is the smallest of the three and delightfully sleepy, with a lazy, very Greek air. Kioni, a few miles to the south is the most conventionally pretty. Built around a wide bay, it is a little larger than Frikes and has a beautiful waterfront, backed by pastel-colored neo-classical houses.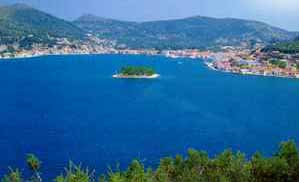 Vathi is the capital, although, with a population of about 2,000 people, it is not large. Why it is called Vathi (which means 'deep') is apparent when you see it, because it is built along both sides of a very long, hiding the town from the sea. Vathi has some lovely old buildings and a reasonable choice of small shops, taverns and café-bars along its expansive waterfront. There are some very good beaches dotted around the peninsula to the east, and in season small water-taxis will take you inexpensively. There is plenty of speculation as to whether today's Ithaki really was the homeland of Odysseus, but little hard evidence to date. There are, however, plenty of clues, and the islanders certainly don't need convincing. Nevertheless, certain descriptions and places Homer mentions do seem to fit.