Pieria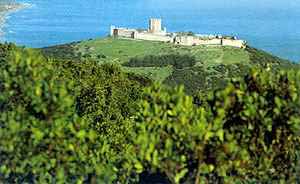 The very long trip from Ioannina to Thessaloniki is only sparked by the passing through the Vale of Tempe, a strategic pass that has been hewn deep into the mountain by a river alongside the modern road. Extremely narrow at points, it was the major entrance between Macedonia and the south.
Once you've gone through the pass, you'll enter Pieria, the southermost part of Macedonia. Another amazing site was the castle of Platamon on the edge of the sea (shortly after passing through Tempe where another narrow passage is created). It was built by the crusaders in 1204 and with the cloudy weather, sea, and general area, it is easy to forget you're in Greece and not in England or Ireland.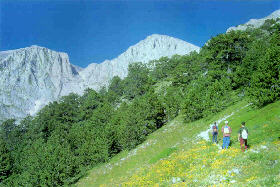 Olympus: home of the immortal gods and land of the Centaurs, is only one of the many places in Thessaly where relics of ancient Greece can be seen and, on the western edge of the plain of Thessaly, just as the Pindus range begins to form, there are 24 perpendicular rocks on which Byzantine monks built their monastic community, the Meteora, about 600 years ago. The mountain can be seen, but only in the best weather. It is usually clouded at the top.
>> Macedonia : Drama, Florina, Grevena, Halkidiki, Imathia, Kastoria, Kavala, Kilkis, Kozani, Pella, Pieria, Serres, Thassos Island, Thessaloniki.