Achaia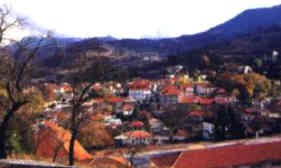 Patra the capital of Peloponnesse, is a thriving commercial and industrial centre, the third most important town in Greece and its main western port. Every day thousands of travelers pass through this lively harbor town, the capital of the Achaia and the largest city in the Peloponnese, as they shuttle between destinations in the Peloponnese, Italy, Cyprus, Crete and the Ionian islands.
The city's ruins serve as a testament to centuries of diverse cultural influence imposed upon it. From the 2nd century BC to the 18th century AD, Patras passed through the hands of the Romans, Franks, Turks and Venetians. In 1828 it was liberated, and has remained Greek ever since.
A 13th century Venetian castle dominates the city. Built on the site of the temple of the Panachaian Athena, it offers panoramic views of the Gulf of Patras and the Ionian islands of Zakynthos and Kefallonia. The city is also home the Archaeological Museum of Patras and to the largest Orthodox cathedral in Greece, dedicated to St. Andrew, who lived and died here.

During the summer the Patras Arts Festival features events staged at the city's ancient Roman theater. Perhaps the best time to visit is during Carnival (mid-January through Ash Wednesday). Rumored to have the finest Karnavali in Greece, the city springs to life every night with feasts, parades and parties and people of all ages dancing in the streets.
Patras is also a pleasant seaside resort with some good hotels. It is an ideal base for visitors to the region. West of Patras is Lapas and, further south, are Kourouta and Palouki beaches, connected by a daily bus to Amaliada.
At Kyllini there are mineral springs, hydropathic installations and a number of new hotels. With a public beach, it is a lively resort as well as a spa. East of Patras there are beaches at Psathopirgos, Lambiri, Longos, Selianitika, Kounoupeli and Kalogria. A tiny train climbs up the Vouraikos Gorge from Diakoftoto Kalavrita. Other resorts include Vartholomio, Nikoleika (Aigio), Lakopetra and Metochi. A road runs 77km (48 miles) southeast of Patras through superb mountain scenery to Kalavrita.