Hydra Island

Area: 50 sq. Km.
Population: 3.000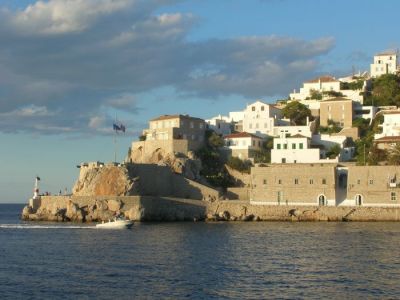 Hydra is a cosmopolitan island, located 35 miles from Zea port (Pireaus) where transportation is only by foot, donkeys, or sea taxis, while cars, motorcycles or even bicycles are not allowed, offering an active nightlife. Beaches are at Kamina, Molos, Palamida, Bisti and Mandraki and the sea cave of Bariami has been converted into a swimming pool. Many beaches are more easily reached by boat.
The island does not allow any motorized transport. There is only a small number of hotel rooms and most visitors hire or own their accommodation. A large monastery is centered at the highest point of the island. If you go, Ferries and Flying Dolphin hydrofoils run frequently from Piraeus - the port for Athens - to Hydra. Ferries take approximately four hours.

The buildings are in traditional style, decorated with wooden painted ceilings, marble fountains, and furniture that brings you far in the past.
There are fantastic spots for swimming, fishing, snorkeling, diving, windsurfing, water skiing, as well as walking and climbing. Places to visit are old monasteries, old mansions, the Historical Archives Museum, the local branch of the school of fine arts and the merchant marine Academy.
The Eighteenth Century mansions that line the harbor front of this beautiful town are testimony to the wealth accumulated by a merchant fleet that transacted trade as far a field as America. These, and the steep hills that encompass Hydra Town, assault the eye as one disembarks from the hydrofoil after a short crossing from Piraeus.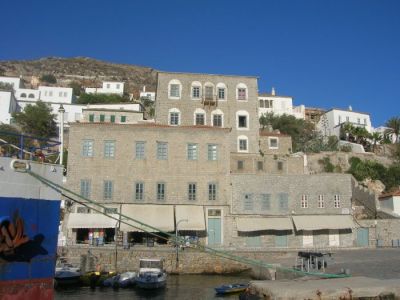 The fact that there are no motor vehicles in any shape or form on Hydra, save the refuse collection lorries, lends the island a distinct advantage over its more popular, well known and noisy neighbors Poros and Spetse. Luggage transportation is undertaken by willing donkeys that line part of the harbor front. Away from the waterfront, narrow tracks and alleyways form a warren of exploring opportunities and eventually lead to tracks and pathways that are not surfaced and lead to the island's uncoil interior.
There is no shortage of restaurants, taverns, bars and discos on Hydra. Evenings are vibrant. Not having to dodge the ubiquitous mopeds and motorbikes that are omnipresent on other Greek Islands is bliss. Just be careful to avoid the "donkey rank"!
On the minus side, Hydra is not blessed with great beaches. Unless you are prepared to swim from rocks on the southern side of the harbor, the nearest sandy beach is 2km away at Mandraki. There is also a daily influx of day-trippers from Athens that disembark for an hour or two, normally afternoon.
Island hoppers will be able to have a trip over to Aegina, Poros and Spetses for the day.