Skiathos Island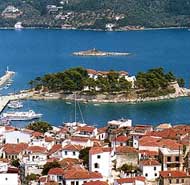 Skiathos Town is the chief place and indeed the island's only real town, where almost all the permanent inhabitants of the island live. It was built in 1830 on two low-lying hills, when after the War of Independence people left the town located at Kastro and settled near the harbor. It was reconstructed after heavy German bombardment during World War II.
Skiathos is green, soft and idyllic with many sandy beaches. Ranging from tiny coves to long open expanses of sand, there are over 60 beaches. Two of them, Koukounaries and Lalaria, are among Greece's best. The island's only town, Skiathos, rises from one of Greece's prettiest ports. Pine woods, orchards and more than half a million olive trees cover the hilly interior. The highest wooded summit rises to 438 metres. Around Skiathos there are 9 smaller islands. Two of these, called Tsougries, lie across the main harbors offering safe anchorage to boats, with a small marina for yachts.
People come to Skiathos for beaches and nightlife, there are hot, packed bars with load music, 'decent' jazz clubs and bouzouki bars. There are some great restaurants, though rarely reasonably priced. In July and August the island is overrun by package tourists. However, you can always find accommodation in private rooms. Most of the tourists stay along the south and southeast coasts. If you want to escape the crowds, try the northern beaches, some of them only accessible by taxi boats. Every morning the boats also leave Skiathos harbour for a full-day excursion to other Sporades, Skopelos and Alonissos - visiting them is a must.
On the island's high and rocky northernmost headland perch the remains of the old capital, Kastro. Try to find time to visit the Evangelistria monastery, walking distance out of the port. Make the expedition to more distant Panaghia Kounistra, dedicated to the island's patron saint.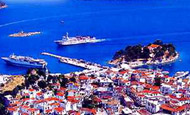 Skiathos and Skopelos not only retain much of their forests, they also preserve big part of their old paths. Usually, these paths are intersected by newly constructed roads, and they are being kept open mostly by foreign walkers.
Hikers on Skiathos and Skopelos are unlikely to get thirsty, too hot or sun burnt. All routes are well shaded; springs with running fresh water are wide-spread; not to mention the numerous beaches, of which, Skiathos alone counts 60!
Archeology lovers won't have much to see on the two islands. Monastery architecture, as well as traditional architecture enthusiasts, will have a lot to see, especially on Skopelos. Those who want cosmopolitan life should go to Skiathos, while solitude seekers should prefer Skopelos.