Skopelos Island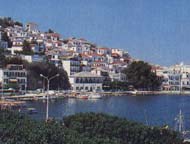 Skopelos is one of the most beautiful Aegean islands. It has two main towns well preserved and very pretty, surprisingly unspoilt from modern development. It is in fact one of the most charming towns in the Aegean. The capital and chief port, also named Skopelos, is a complex and delightful cobblestone maze stacked up against a hillside. The best way to arrive is by the sea, with the town revealed slowly as the boat pulls into the harbor. The houses are jammed together along narrow and oddly curving alleys, their windows capriciously placed, their balconies awash in flowers. The waterfront is lined with tavernas, cafes, tourist offices and boutiques. A stroll to the top of the town brings you to the oddly whitewashed ruins of the Venetian castle.
Glossa is the island's second town, a winding three kilometers up the hill from Loutraki, the small port with its thin pebble beach. It is another whitewashed delight and considerably quieter than the capital.
The rest of the island is rich in vegetation, with wind-swept pines growing down to secluded coves, wide beaches and terraced cliffs. The most popular beaches are all on the sheltered south-west coast. It is also famous for it's many churches, it is said that there is one for each day of the year. There are many lovely beaches, sometimes the pine trees grow right down onto the beach.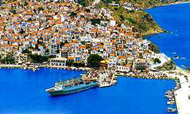 Skopelos is a pleasant and green island, and not too overcrowded, even in high season. It is also a good nudist spot, a small paradise for those who enjoy easy walks in a rural (or even forested) greek landscape. Walking boots are not a requirement here, you will get by quite nicely wearing your old trainers. Skopelos also has many good beaches, the best are: Milia (more crowded after the arrival of water sports, tentatively nudist at its south end), Velonio (half of it is nudist, same half good for snorkeling) and Glisteri (pretty small, but nice and quiet, beware of sea urchins).
Skiathos and Skopelos not only retain much of their forests, they also preserve big part of their old paths. Usually, these paths are intersected by newly constructed roads, and they are being kept open mostly by foreign walkers.
Hikers on Skiathos and Skopelos are unlikely to get thirsty, too hot or sunburn. All routes are well shaded; springs with running fresh water are wide-spread; not to mention the numerous beaches, of which, Skiathos alone counts 60!
Archeology lovers won't have much to see on the two islands. Monastery architecture, as well as traditional architecture enthusiasts, will have a lot to see, especially on Skopelos. Those who want cosmopolitan life should go to Skiathos, while solitude seekers should prefer Skopelos.