History of Corfu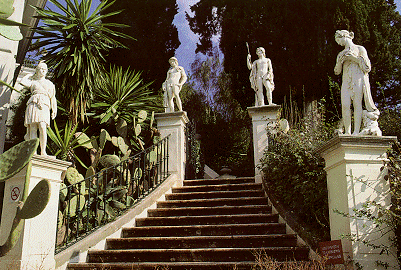 The Ionian has been inhabited since prehistoric times and its situation on the trade and invasion routes to and from the Balkans, Italy and the Levant, has insured a rich and varied historical tradition.
The first wave of Ancient occupiers of contemporary interest were the Myceneans who have left significant traces particularly in Thesprotia and Kefalonia.
During the Classical period the region was home to several independent city states (and their colonies) remains of which can still be seen particularly in Corfu, Thesprotia and Kefalonia. Later, these states joined one or other of the great leagues organized by Corinth, Athens and Sparta resulting in the Peloponnesian war breaking out off Southern Corfu in 431 BC.
During the Hellenistic period the region was repeatedly threatened by Macedonian invasions. King Pyrrhos of Epirus who had already fought the Romans in Southern Italy was one of those to offer resistance until his death in 272 BC.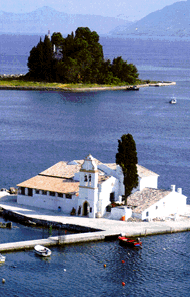 The Romans finally began to occupy the region in 187 BC.
When the Emperor Constantine divided the Roman Empire in the 4th century AD the Ionian became part of the Eastern (Byzantine) Empire.
Despite this, various parts fell under the control of a number of 6 powerful Frankish and Italian baronial families including the Norman in the llth century and the Angevins in the l3th century.
Eventually however, by the late l5th century, two forces had emerged to dominate the region; The Ottoman Turks and the Republic of Venice. Despite brief periods of occupation by the Turks and with the exception of most of Epirus the islands fell under the control of Venice until the latter's defeat by Napoleon in 1797.
Then followed a brief period of French occupation of the Ionian islands until, in 1798, a joint Russian Turkish protectorate was established. The Septinsular Republic, as it was called, lasted until the islands were ceded to the French in 1807 by the treaty of Tilsit.
The British occupied the islands in 1809 and, following the Congress of Vienna in 1815, set up the Union of the Ionian Islands under their protection. (Septinsular, Eptanissa were the terms used for the seven Ionian islands which included Kythera off the South Western Peloponnese).
Following the outbreak of the Greek war of Independence in 1821 which received strong support from the Greeks of the islands, the Turks were gradually driven northward. Britain returned the Ionian Islands to the new Greek State in 1864 but it was not until the end of the first Balkan War in 1913 that Epirus was returned to Greece.