Gavdos Island

Area: 27 sq. km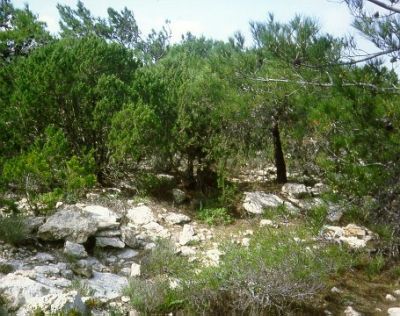 Gavdos island, is opposite of Sfakia, is the southern most border of Greece and Europe. It is 24 nautical miles away from Agia Roumeli, right in the middle of the Libyan Sea. If you climb up any of the southern peaks of the White Mountains of Crete, on a clear day, you will see the island of Gavdos lying flat on the horizon amidst the Libyan Sea.
Gavdos is the southernmost tip of Greece and consequently of Europe. It is a low, sandy island wooded with pine trees and cedars. Of its 5 old villages 3 are still inhabited. Two new settlements grew in recent years. The first at the port, the Karave, and the second at the bay of Sarakiniko. Altogether the inhabitants of Gavdos today do not exceed 40 people. In the summer there is an influx of racksacks tourists, mostly germans and austrians, who freelance camp at the Sarakiniko bay.
The word you hear most on the island is the word "destruction", or "Zerstoerung" in german, or "anaptixi" in greek. Ironically, the greek word means "developement", but for the Gavdiotes, "anaptixi" was the irrevesible abandoning of traditional peasant life, and the building of numerous illegal dwellings such as tavernas and rooms to let, at the island's most beatiful areas, promoting the destruction of the delicate ecosystem, and of the archeological remains.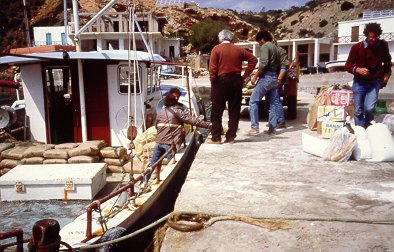 According to Callimachus, this is the ancient isle of Ogygia where, as Homer claims in "Odyssey", the nymph Calypso lived. Other names of Gavdos in the past were "Cavdos" and "Clavdos" (Ptolemens and Ierocles), "Glavdi" (the Epistles), "Gozzo" (the Venetians) and "Bougadoz" (the Turks). In the first Byzantine period, Gavdos had a bishop, as it had many inhabitants, but, during the Venetian Rule, the islet was abandoned, as pirates sought refuge there. Until the late 18th, early 19th century, Gavdos belonged to Sfakia and was part of the Municipality of Anopolis Sfakion.
The island had a roman era city, traces of which are still to be seen at the north west of the island. The ancient city was succeded by a byzantine town, which was situated on the hill of Agios Ioannis at the north of the island. The byzantine town must have been of a considerable size, since it had 8000 inhabitants, and even its own archbishop. In later times the island should have been desolated and the nest of pirates. The names of two bays on the island, that carry the name of Sarakiniko and Sarakinou, is all what reaches us today from this dark period of history.