Kavala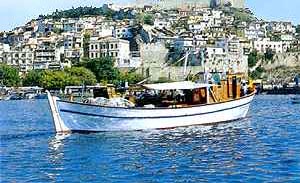 Backing on to the lower slopes of Mount Simvilon, is the second largest city of Macedonia and a principal port for northern Greece. Coming in through the suburbs there seems little to commend a stay, but the Panagia quarter above the port preserves a scattering of eighteenth and nineteenth century buildings, and considerable atmosphere. It is by far the most attractive part of town to explore, wandering amid the twisting wedge of lanes and up towards the citadel.
Mehmet Ali, the Pasha of Egypt and founder of the dynasty which ended with King Farouk, was born in Kavala in 1769 and his birthplace, at the corner of Paulidou and Mechmet Ali, is maintained as a monument. To visit its wood-panelled reception rooms, ground-floor stables and first-floor harem, ring for the caretaker. Another caretaker may escort you through the Citadel (summer daily 10am–7pm) so you can explore the Byzantine ramparts and dungeon; in season it hosts a few festival performances, mainly dance, in its main court.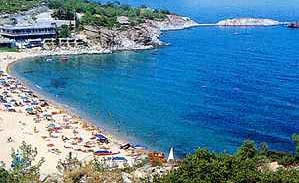 The Archeological Museum (Tues–Sun 8.30am–3pm) at the west end of the waterfront, just off Erithri Stavri, contains a fine dolphin mosaic, a reconstructed Macedonian funeral chamber and many terracotta figurines decorated in their original paint. Close by, on Odhos Filippou, is the Folk Art Museum (daily 9–11am & 6–9pm) which, as well as traditional costumes and household utensils, has some interesting rooms devoted to the locally born sculptor Polignotos Vigis.
In the main square, Platia Eleftherias, is an EOT office, which can provide schedules for daily ferries from Kavala to Thassos and other east Aegean islands. There are hotels, beaches, museums, restaurants and tavernas as well as an aqueduct and Byzantine citadel. Boats can be hired for fishing, water-skiing and sailing. Popular sandy beaches are at Kalamitsa, Batisand Toska, and secluded ones at Iraklitsa and Peramos. There are also some little-known stalactite and stalagmite caves and many archaeological sites nearby. Mount Pangaion is a good area for hunting and climbing.
>> Macedonia : Drama, Florina, Grevena, Halkidiki, Imathia, Kastoria, Kavala, Kilkis, Kozani, Pella, Pieria, Serres, Thassos Island, Thessaloniki.