Alonissos Island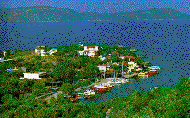 Alonissos, is a very quiet little island, located in a backwater to the east of Skopelos. It is primarily a destination for day trippers from the nearby islands, who may want to escape the rush of Skiathos, for instance. This may change in the future, as this island is now very well connected (only 20 mins by hydrofoil from Skopelos). And indeed, package tourism HAS arrived. But Alonissos is probably not attractive enough to ever be spoilt by great hordes of people, and it will probably retain it quiet rural charm, an easily accessible refuge for those who want to get away from it all. At least for now, it's a nice place for some quiet and easy strolling around the greek countryside.

Alonissos has the most charming little hillside Chora, although pretty much deserted. After an earthquake in the sixties, the inhabitants left for the other villages closer to the sea, but it is now finally being rebuilt. It is a very nice place with excellent views over the island. I would very much prefer this village to it's Skopelos equivalent, which looks pretty shabby. If you don't want to take the walk up there, a bus does exist, but the walk is just as charming as the village itself.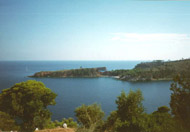 Alonissos has one problem, though, and that is the lack of good (and accessible) beaches. The best approach is by boat. Some of the nicest beaches on the island, to the south of the port, are now fenced in by "Holiday Clubs", and are, as it seems, not open to the general public. But I do think that, after Greek law, the public should be allowed to access ALL beaches !
Alonissos has suffered in the past with earthquakes, one of which caused considerable damage to Hora in 1965, most of the inhabitants left the town for other Islands or went to live in Patitiri, the present harbour.
Travelling around the island is not easy, there are no taxis, few busses, and so the best ways to get around are on foot or by boat.
Many of the houses in the old town are being rebuilt by the Germans and English as holiday homes. It's very picturesque in a kind of ramshackle way.