Holidays in Greece is your guide to the exploration of our country, its beauties and different locations, providing you all the necessary information to assist you in making the best possible accommodation choice.

We present here for you all Greek regions one by one, along with accommodation choices from luxury to smaller hotels and all kind of lodgments, such as holiday apartments and rooms.

You will also find information on special packages and tour suggestions, honeymoon trips, etc., which can be ordered through our site based on availability.

As the accommodation is one of the most important issues in your final decision, the Holidays in Greece has been renewed in order to make your reservation the easiest possible.

Full information on each lodgment is provided, along with the possibility of making directly your request through a booking form.

Hoping this fresh redesigned site will meet all your expectations and will make booking procedure easier for you, we wish you an unforgettable trip to Greece ....
Hydra Island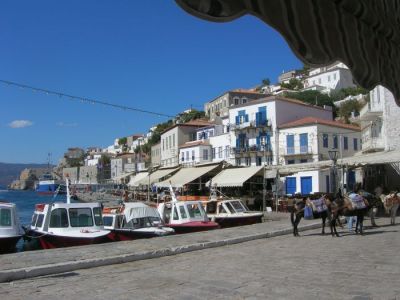 Welcome to Hellas (Greece) and welcome to Hydra! it's probably impossible to fit all of Hydra's fascinating beauty in this small pamphlet. We have attempted, however, to give a short description of the island that has enough to offer the visitor and guarantees a memorable vacation.
The healthy dry climate, the friendly people, the sparkling warm waters and the picturesque harbor that at sundown transforms into a cosmopolitan city full of sports, scuba diving, trips to the islander historical monasteries, donkey rides in town, shopping In the stores along the harbor, good food in the taverner and restaurants, and all night partying at the bars and music clubs around town.
The high quality and exquisite service characteristic of the hotels and other shops and restaurants fit perfectly the strict standards of the highest class visitors and the jet set from all over the world that come to Hydra every year.

Sponsored by Mistral Hotel
Have a wonderful time...