Grevena

Grevena, in the southern part of Macedonia, is mountainous, with the Pindus range rising to the west and the Hassia range to the north. The unspoilt villages in the area are ideal for those in search of peace and quiet.

Grevena is a town and municipality in Greece, capital of the Grevena Prefecture. The towns's current population is 10,177 citizens; it lies about 400 km from Athens and about 180 km from Thessaloniki. The municipality's population is 15,481. Population density was the smallest of the region until the 1990s, while Grevena has been linked with the Via Egnatia since the early-2000s, now connecting Igoumenitsa with the Evros of Alexandroupoli at the border with Turkey. Its mountains surround the municipality, which is situated by the river Greveniotikos which flows into the Aliakmon. Other significant towns in the municipality are Amygdalies and Mega Seirini.

Platamonas, on the west coast, is a popular summer resort, with camping grounds and supervised swimming beaches.

>> Macedonia : Drama, Florina, Grevena, Halkidiki, Imathia, Kastoria, Kavala, Kilkis, Kozani, Pella, Pieria, Serres, Thassos Island, Thessaloniki.
Hydra Island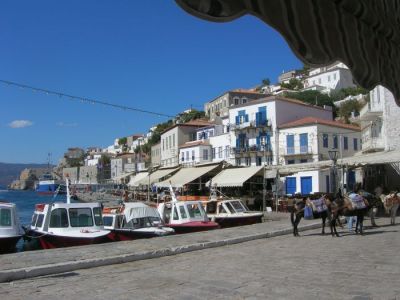 Welcome to Hellas (Greece) and welcome to Hydra! it's probably impossible to fit all of Hydra's fascinating beauty in this small pamphlet. We have attempted, however, to give a short description of the island that has enough to offer the visitor and guarantees a memorable vacation.
The healthy dry climate, the friendly people, the sparkling warm waters and the picturesque harbor that at sundown transforms into a cosmopolitan city full of sports, scuba diving, trips to the islander historical monasteries, donkey rides in town, shopping In the stores along the harbor, good food in the taverner and restaurants, and all night partying at the bars and music clubs around town.
The high quality and exquisite service characteristic of the hotels and other shops and restaurants fit perfectly the strict standards of the highest class visitors and the jet set from all over the world that come to Hydra every year.

Sponsored by Mistral Hotel
Have a wonderful time...