Kassos Island

Area: 65 sq km (48 sq miles)
Population: 1,200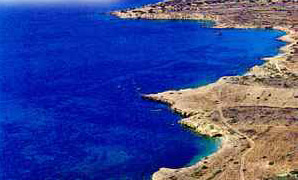 With a population of just 1,200 and covering a measly 48 square miles, Kassos is one of the few Greek islands that can still truly combine a warm welcome and little tourist development.
Of the 5 villages on the Island, the largest and main port is Phry. This rather ramshackle collection of dwellings has little natural charm although the tiny harbour for caiques is a delight. The main attraction in Phry has to be the tavernas. As abundance of ridiculously cheap, fresh fish is supplied by the island's own small fishing fleet. Otherwise you will be welcomed with great friendliness by the local people, as tourists are a rarity.
A short walk across the bay and the tiny inlet of Emborio, where the majority of the fishing fleet is tied up, comes into view. Walkers will revel in the gaunt remoteness of the surrounding countryside where olive groves, citrus fruit trees and small farms are interspersed between the villages of Panagia, Arvanitohori and Poli, which are linked by rough roads.
Beach lovers will have to make the short boat journey to the neighbouring islet of Armathia, which has a fine, sandy beach.
>> Dodecanese Islands : Astypalea, Halki, Kalymnos, Karpathos, Kassos,
Kastelorizo, Kos, Leros, Lipsi, Nisyros, Patmos, Rhodes, Symi, Tilos.