Koufonisia (Small East Cyclades)

Koufonisi, Irakleia, Schinousa, Donousa, Makaries, Dascaleio, Agios loannis (St. John).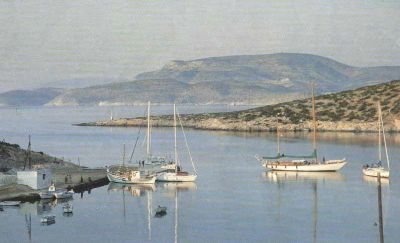 Situated to the south east of its more illustrious neighbour Naxos, Koufonissia is two islands separated by a 200 metres straight. The upper, populated island is one of the smallest islands in the Cyclades with an area of just 3.5 square kms. and a population of 284. With the largest fleet in Greece in direct proportion to the population, fishing is the main industry on the island.
In spite of its size, Koufonissia does have several tavernas and cafes together with some local art shops and a post office. We found the meals in the local hostelries to be of a high standard, with fish in plentiful supply courtesy of the home fleet. There is no possibility of car or bike hire as the only asphalted roads, are in and around the village. Anyhow, the island is small enough to walk around in one morning. Beaches are the big plus on Koufonissia. There are 4 really superb stretches of sand within a thirty minute walk of the village.
HISTORY
Nine small islands that lie south of Naxos and between Amorgos and los. Northwest of Irakleia there two caves: in the cave of St. John there are stalactites. In Donousa, according to the legends , the God Dionysus hid Ariadne, so that Theseus would not find her According to archaeological finds it has been dwelled since the prehistoric years and flourished during the ancient years. During the Middle-Age all of the islands used to be the hideouts of pirates. Nowadays only Irakleia, the greatest of the islets. with its two villages Agios Georgios and Irakleia, Schinousa with the villages Schinousa and Mesaria and Donousa with its villages Donousa. Kalotaritissa, Mersini, Mesaria and Pano Koufonisi are inhabited. The others islands are uninhabited.
BEACHES FOR SWIMMING
Iraklia: Livadi, Ag.Giorgis, Karvounolakos and Alymia.
Koufonisi: Parianos Beach, Port, Phoenicas. Schinousa: Almyros, Psili Ammos.Ai Vasilis, N.Tsigouri, Aligaria.
Beach for nudism: Kato Koufonisi, Glaronisi, Koufonisi.
SUGGESTION
If you are fascinated by the idea of becoming a modern Robinson and have the proper company, take with you as fewer things as possible, find your own beach and leave yourselves to the sea.
>> Cyclades Islands : Amorgos, Anafi, Andros, Antiparos, Delos, Folegandros, Ios, Kea, Kimolos, Kithnos, Koufonisia, Milos, Mykonos, Naxos, Paros, Santorini, Serifos, Sifnos, Sikinos, Syros, Tinos.