Tinos Island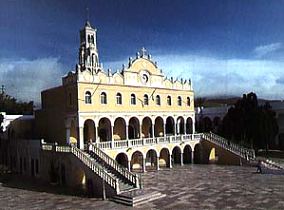 Tinos is untouristy, unspoilt, unaffected and just about every other "un" except interesting and attractive. The hustle and bustle of the main town and port contrast sharply with rural atmosphere that pervades the rest of the hilly island. Fat livestock, working windmills and dovecotes are as integral a part of the landscape as the holiday accommodation and tourist shops.
Situated in the north Cyclades, Tinos has the reputation of attracting boatloads of fanatical, religious pilgrims. With the exception of the two holy days on March 25th and August 15, this is an exaggeration to say the least. The miracle-working icon and the Church of Evangelistria in Tinos Town are certainly worth visiting as both have great beauty in addition to their religious significant, but there are many other reasons to visit Tinos. In particular, Tinos possesses some of the most attractive villages in the Cyclades.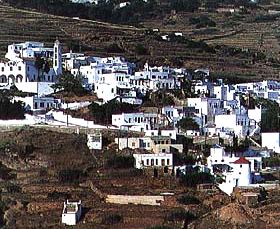 The main town if Tinos is a vibrant, quintessential Greek harbour town with plenty of colour, shops, tavernas, cafes and a never-ending stream of arriving and departing water craft. Porto, by contrast, on the south coast of Tinos offers a large, sandy bay conductive to a relaxing, beach-based holiday in scenic surroundings.
History: Tinos is the third largest island of the Cyclades. it's near Syros, Mykonos and Andros. It boasts about 40 picturesque villages. The island's name derives from the word tenok that has a Phoenician origin and is the word for "snake", because of the great number of snakes that used to slither throughout the island. According to the ancient Greek mythology the god Aeolus, master of the winds, lived in Tinos.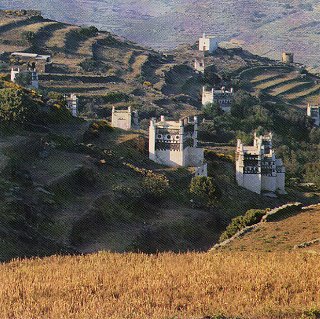 The island flourishes throughout the duration of the Cycladic civilization. During the Hellenistic years it becomes a member of the Athenian alliance. In 800 BC it 'rs pillaged by Mithridates. Later, until 1715 the island is occupied by the Venetians. During the Turkish Domination it retains some of the privileges of being self governing. Being the homeland of great artists such as Giannoulis Halepas, Gyzis, Nikiphoros Lytras and Philippotis it has a long tradition in marble-sculpture, which continues as there is ac Arts school with a sculpture laboratory. ln 1822 the picture of Virgin Mary, that is considered miraculous is found in the island. Thus in 1823 to the grace of Virgin Mary, the homonymous temple was built and is until a center of worship for the pilgrims. In 1940 a Italian submarine sunk the Greek destroyer ELLI in the port of Tinos.
>> Cyclades Islands : Amorgos, Anafi, Andros, Antiparos, Delos, Folegandros, Ios, Kea, Kimolos, Kithnos, Koufonisia, Milos, Mykonos, Naxos, Paros, Santorini, Serifos, Sifnos, Sikinos, Syros, Tinos.