Sikinos Island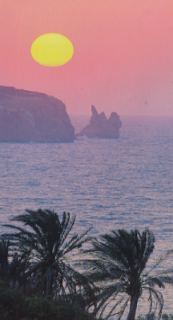 This remote Cycladic island, tucked between Ios and Milos, is one of the quietest, most secluded Greek Island you could wish to find.
The port area of Alopronia (sometimes called Skala) is where you will be staying. The noticeable absence of the usual swarm of motor-bikes, the scourge of so many a Greek Island, is a Godsend. Ultra-lazy days pottering between beach /taverna/hotel can be punctuated by a caique trip to the beach of Agios Nikolaos.
Undoubtedly, you will wish to visit the fortress hill village of Hora/Kastro. Set upon a ridge overlooking the sea, this charming settlement with 2 tavernas, a post office and delightful main square is a million miles from mass-market tourism. A further hour on foot to the west and partly ruined monastery, formerly a look alike Roman temple which later metamorphosed into a Christian church, will materialise in the heat haze.
Walking back down to Skala from Hora/Kastro can take an hour, but the magnificent scenery and views are worth it.
Sikinos has been protected biotope of European Importance in the caves and in the steep beaches live and found refuge the wild pigeons of the Aegean, many seabirds and the Mediterranean sea. Its ecosystem is under protection and the respect of us for nature, which has chosen this small island as refuge by these unique species, is demanded.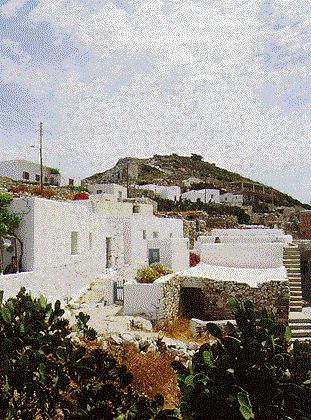 History: It lies between Folegandros and los by which it is separated by a narrow opening of about 3 naval miles in width. Mythology reports that the king of Limnos Thoasfound refuge to Sikinos, that was then named Oinoe and after he married with the Nymph Neis they had Sikinus, their son from whom the island was finally named. Hora is one of the most beautiful settlements of the Cyclades. It has been successively a colony of the Athenians, the Macedonians, the Ptolemies of Egypt and the Romans, who used it as a place of exile.
The occupation by the Francs and the subordination of the island to the Ducha of Naxos. Follow, in the 17th century, the Turks while in 1770-1774 it is conquered by the Russians.lt suffers recurring raids by the pirates and follows the rest of the Cyclades to the revolution of 1821. It consists of two settlements, Kastro (Castle) and Chorio (Village). It has retained its picturesque character with the stone built mansions and the narrow passages.
>> Cyclades Islands : Amorgos, Anafi, Andros, Antiparos, Delos, Folegandros, Ios, Kea, Kimolos, Kithnos, Koufonisia, Milos, Mykonos, Naxos, Paros, Santorini, Serifos, Sifnos, Sikinos, Syros, Tinos.