Naxos Island
Being the largest island in the Cyclades, Naxos has a commodity many of its more illustrious neighbours lack - space. Barren, ashen-grey mountains, lush valleys of citrus and olive groves, pastel-coloured coastal plains and wide stretches of empty, golden sand all but envelop the tiny, quaint villages that lie dotted amongst this rich panoply.
Naxos Town differs from nearly all its brother and sister towns in the Cyclades by not being eye-catchingly attractive. What it lacks in tweeness it more than makes up for in character with the bustle of an indigenous, year-round population, the perfect complement to wonderful old buildings and a plethora of shops, tavernas and cafes.
By contrast in the extreme, Kastraki is situated on semi-virginal coastline south of Naxos Town. This totally unspoilt part of Naxos has an embarrassing wealth of empty beaches and very little else except excellent holiday accommodation. Finally, the fledging "beach resort" of Agios Prokopios has one of the very best sandy beaches on the island with watersports, tavernas and cafes the simple order of the day.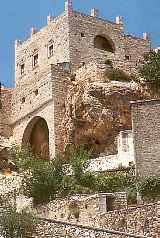 History: Naxos is the largest island of the Cyclades. It lies between Mykonos, Amorgos and Paros. A tall mountain line crosses the whole surface of the island from its southern to its northernmost edge. Its soil is fertile. According to mythology, Naxos was the island of the god Dionysus us and Ariadne who helped Theseus to kill the Minotaur. It is mentioned that in this island Zeus grew up in a cave of the highest mountain that is named Zas. In the ancient time it was named Dia.
Around 1.000 BC Ion emigrants settled in the island. The name Naxos derives from the name of its ruler Naxos and it was known as Naxia in the Middle Age. The island suffered by many raids from the pirates, especially the Saracens. This is the reason why its inhabitants settled in the central parts of the island.
Sightseeing's:
The Archaeological Museum that is housed in the old merchants' school of the Jesuits, has notable finds. One of the most important sightseeing's stands to the west of the village Apollonas' it is a giant bearded Couros,dedicated to the god Apollo, a unique specimen of archaic plastics of the 7the century BC. Naxos is considered one of the centers of the development of the archaic plastic art.
>> Cyclades Islands : Amorgos, Anafi, Andros, Antiparos, Delos, Folegandros, Ios, Kea, Kimolos, Kithnos, Koufonisia, Milos, Mykonos, Naxos, Paros, Santorini, Serifos, Sifnos, Sikinos, Syros, Tinos.