Sifnos Island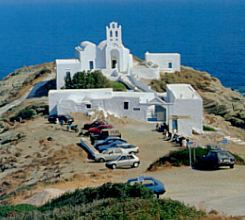 Sifnos today is a quiet, hilly island in the western Cyclades. A combination of superb beaches, interesting inland villages, lovely churches and a bus service that is second to none on the smaller Greek Islands means any Grecophile worth his or her salt should seriously consider a holiday here.
Short of arranging a private helicopter, Kamares is the only seaborn arrival and departure point on the island. As such, the fascinating comings and goings of ferries, pleasure craft and fishing vessels is one of the most enjoyable Greek dramas to view from the shaded waterfront cafes.
The sandy, town beach, a wide selection of tavernas and good bus connections with other parts of the island make this village, which is surrounded by imposing, high hills, a lovely place to stay.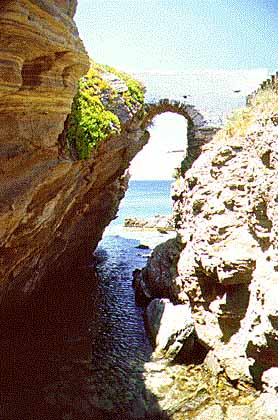 The hilltop village of Apollonia is even quieter than Kamares. A mantle of cubed, Cycladic houses stretches across the terraced hills, criss-crossed by an intricate crochet of telephone poles and wires silhouetted against the deep blue sky. Tavernas and shops are to hand as are bus connections to the coastal regions with their magnificent beaches.
History: Sifnos is the fourth island of the Cyclades and lies betuine Serifos, Kimolos and Antiparos. In the ancient days Sifnos used to be one of the richest islands of the Cyclades. It was first inhabited by Cares and Phoenicieans. Ec 1000 BC it became a colony of the lons and was named Sifnos after the name of the leader of the colonists. Herodorus reports that it had gold and silver mines and that's why its inhabitants became so wealthy and decorated their city with magnificent art work.
The island blessed during the 6th century BC. Its inhabitants fought the Persians by participating in the Athenian Alliance and took part in the naval battle of Salamis. Being a target of pirate raids, the island is finally taken by the Turks in 1617. In 1821 however it gains its freedom by taking ac active part in the Greek revolution. The capital is built a top three hills with typical Cycladic architecture. It took its name from the god Apolon (Apollonia).
Sightseeing's: Castle. Archeological Museum in Camares. Folklore Museum (Apollonia). Panagia Ouranophora (Temple of Virgin Mary who bears the heaven). The monasteries of the Chrysostomus and Theologus the Mute. The rock of Chysopigi.
>> Cyclades Islands : Amorgos, Anafi, Andros, Antiparos, Delos, Folegandros, Ios, Kea, Kimolos, Kithnos, Koufonisia, Milos, Mykonos, Naxos, Paros, Santorini, Serifos, Sifnos, Sikinos, Syros, Tinos.