The Cyclades Civilization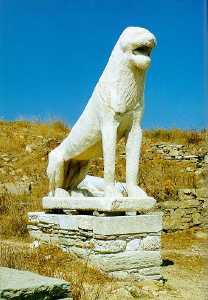 The civilization, which covers all of the third millennium BC and was developed in the Cycladic islands, is the so-called Protocycladic civilization. The factors contributing to its development were:
a) The mild climate of the Cyclades, which are very accurately characterized as the "Riviera of Greece".
b) Their geographical position, a natural bridge between Europe and Asia.
c) The development of shipping and therefore of trade, and
d) The self-sufficiency they had in spite of their limited land area.
This civilization developed in three major phases. The first was from 3200 to 2800 BC and is called the Civilization of Pylos (Clay), from the homonymous site on the island of Melos. The second is from 2800 to 2200 BC and is the Civilization of Keros-Seros and the third from around 2200 to 2000 BC. Many archaeologists, both Greek and foreign, have excavated and studied it. The most systematic excavator was the great Greek archaeologist Christos Tsountas who carried out a multitude of excavations in tombs and in settlements, and distinguished the character of the Cycladic from the rest of the civilizations.
The settlements were located in coastal sites and in the beginning were without walls and guarding measures. But later, because of fear of pirates, the Cycladites moved into the interior, settled on the hills with sharp hill-sides and fortified themselves with walls and towers. Then, when the Minoan civilization predominated they moved back down to the coastal areas. They lived in simple, straight-lined or curved houses in fortified settlements. The walls were made of mud and stones, the roofs were lightweight, made of reeds and branches, the interior was of plaster varnishing and, because of the mild climate or even because of firewood shortage, there was no hearth. They buried their dead in box -shaped tombs of a trapezoidal shape, in circular ones and in chambers carved on the rock. Their religion consisted of a mixture of superstitions and magic. The excavations and research have shown that the Cycladites already had trade relations with mainland Greece, the coastal areas of Asia Minor and with the western Mediterranean, from the Neolithic period.
>> Cyclades Islands : Amorgos, Anafi, Andros, Antiparos, Delos, Folegandros, Ios, Kea, Kimolos, Kithnos, Koufonisia, Milos, Mykonos, Naxos, Paros, Santorini, Serifos, Sifnos, Sikinos, Syros, Tinos.